---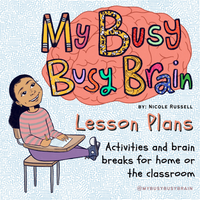 Digital Download for children age 5-9
Lesson plans will engage students in hands-on activities that
expand on themes featured in My Busy, Busy Brain by Nicole
Russell. Objectives focus on knowing our strengths and
struggles, controlling our emotions, and making decisions that
support brain love. The lessons were thoughtfully designed to
promote learning about brain health in a fun way, and each will
provide students a colorful product to take home and share with
their loved ones.

Lesson plans are structured to be 50 minutes in length
including a 10-15 minute warm-up/mini-lesson, a 30-35 minute
interactive main activity, and a 10 minute closing. The warm-ups
are meant to hook the students' interest with open-ended
questions, a mindfulness practice and multimedia. The main
activities are inquiry-based with a creative component and allow
for individual, pair, or group learning. There are modifications for
movement and for students who need visuals to scaffold.
Closing activity questions are grounded in the lesson objective
and can be used as low-stakes assessments.

Lessons are aligned with New York State Social-Emotional
Learning Benchmarks P-12, as well as state SEL standards across
the nation. The lesson activities provide opportunities for students to build self-awareness, self-management, social-awareness, interpersonal skills, decision-making skills, and responsible behaviors.

Enjoy the activities and tag us @Mybusybusybrain to show off students' final products!


Ages: 5-8
Created by Diana Isern, NYCDOE Assistant Principal and Nicole Russell, Author My Busy, Busy Brain with advisement from Carla Breton, NYCDOE Special Educator