---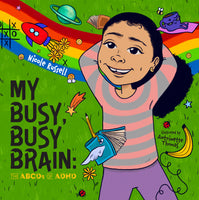 A resource for kids, parents, educators, and everyone else looking for insight into the experience of children with ADHD.
Nicole has ADHD and a busy, busy brain! Her special brain makes Nicole good at art, daydreaming, and exploring. Some days feel like a mental trip to outer space, on a rainbow carpet ride, with talking bumblebees . . . but sometimes, Nicole has a hard time concentrating in school. With a little courage, she learns how to get help for herself and use her voice to speak up for others.
My Busy, Busy Brain provides practical tools for children struggling with controlling their emotions, impulses, and concentration. This book is a beginner course for children curious about mental health and the challenges we feel but can't see.
Illustrator: Antoinette Thomas
Size:9" x 9"
Order a signed copy today!