---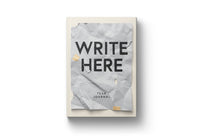 Sale
Hardcover - 6X8.5 Journal, 200 Blank Perforated Pages. Journals purchased via shop.nicolerussell.com include a limited edition sticker sheets.
A companion journal to Nicole Russell's best selling self-help book, Everything a Band-aid Can't Fix, Write Here & Tear gives us a choice. Users can write their honest thoughts and leave them bound to the book or tear them out, keeping their feelings private and making space for new ones. This journal offers a clean slate for the free flow of thoughts, emotions and ideas. Whatever we choose, Russell encourages us to write first and then decide if the words should stay. 
The magic of this book is that it brings comfort but was created to disappear.